Director, Sports and Exercise Medicine
Employer

Specialty

Position Type
The Department of Orthopaedic Surgery is seeking a Director for our Sports and Exercise Medicine Physician (Primary Care Sports Medicine) group. Our Center for Sports Health has 22 physician members; 9 sports and exercise medicine physicians and 13 surgeons working collaboratively with physical therapists, certified athletic trainers, and exercise physiologists.  
This position requires an MD degree (or equivalent) along with strong leadership and organizational skills with a proven record of education, research and clinical experience.  The leadership role will include administrative, clinical and teaching responsibilities, as well as team coverage.
This dynamic position commands an extremely competitive salary enhanced by an attractive benefits package including medical malpractice coverage and a collegial work environment. A faculty appointment at a rank commensurate with academic profile and experience is available at the Cleveland Clinic Lerner College of Medicine of Case Western Reserve University.  
Cleveland Clinic's Department of Orthopaedic Surgery was recently recognized, by US News, as one of America's top 3 programs and deservedly enjoys a national reputation for excellence in clinical care and patient outcomes.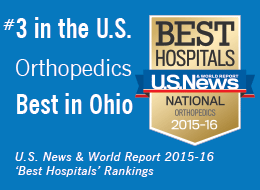 More searches like this